If you're wondering, "How do I get rid of appliances near me?", you're not alone. There are a lot of people who are looking for ways to declutter their homes and free up space. Luckily, there are a few things you can do to dispose of unnecessary junk around you. With the proper guidelines, you can effectively get rid of junk items in the most sustainable way possible.
Getting rid of appliances near you can include some simple methods such as hauling them away, selling them to local vendors, etc. Donating the devices that you no longer need can be a perfect option as well. You can also recycle them through recycling centers.
Appliance removal and disposal can become easier for you when you know what options to go for. On the other hand, decluttering will turn into a challenging task when you need to know what process to select. Ultimately, having a clear understanding of getting rid of appliances near you will help you significantly in the process. In this article, we will discuss it elaborately.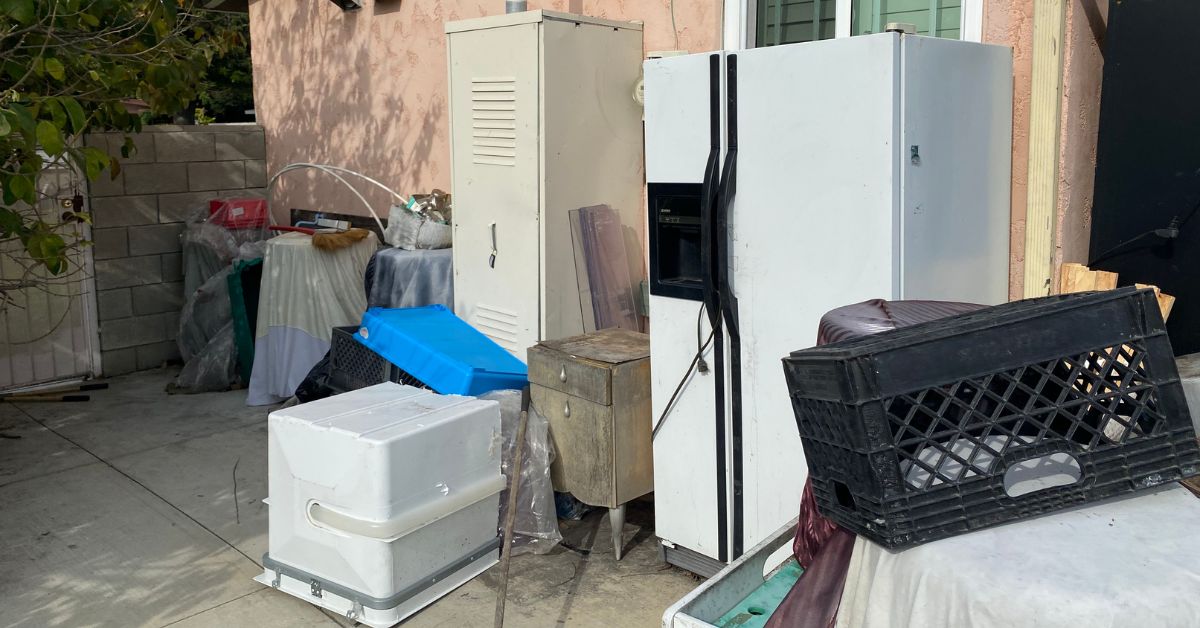 Ways To Get Rid of Appliances and Junk Items
For appliance removal, you can use several methods. Many appliance removal and disposal companies are working to help you. Taking up the help of appliance removal services can be a hassle-free way to get your job done. If you want to haul away junk without causing much disturbance or headache, you are in need of some necessary tools and techniques.
Junk and appliance removal can be done in various ways. But the best practices are those that ensure maximum safety and sustainability in return. You can achieve this goal by following a few simple methods. Here are some of the ways you can use for junk appliance removal near you. 
Place An Ad On Craigslist Or Other Local Sites
If you want to sell used appliances, consider placing an ad on a local site such as Craigslist. This way, you will get rid of the item without paying a lot of money. However, you also need to consider the potential buyers.
Consider offering to deliver the items to the buyer. Some people will pay a little extra for this service. But you will need to decide what amount you can afford. To post an ad on a local site, you will need to enter your item's description and price. Make sure you provide as much information as you can. 
Also, remember to include a picture or two. This will increase the interest of potential buyers. After you have posted the ad, you should receive an email from the site. If you don't receive a response within a few minutes, you can refresh the ad or even delete it.
Craigslist is one of the best sites to sell used appliances. You can choose between listing your item on the main page or using an app. Popular apps include LetGo and OfferUp. Both offers paid promotions. When you place an ad on a local site, be sure, to be honest. Be careful to avoid scams.
Recycling Centers
Recycling your unnecessary and unused appliances can be a great option. In fact, recycling allows you to make a positive impact on the environment and contribute to sustainability. Various recycling centers take up appliances and junk to reuse them. They will break them down and recycle valuable metals to create a new product for use.
Not only does recycling old appliances help the environment, but it can also save you money. By finding ways to reuse or recycle these items, you can save money on purchasing new ones and reduce your carbon footprint at the same time.
There are many different ways to recycle old appliances. You can donate them to charity organizations or even sell them for parts or scrap metal. Additionally, some companies specialize in recycling electronics which will take your unwanted items and give them a new life.
You can find these recycling companies online. Once you have made contact, you can ask about the costs. Sometimes you can get cash for your appliance. Alternatively, you can contact the utility company and ask about their recycling services. Most utility companies will offer you a rebate if you recycle your appliances.
Sell Them To Haulers
If you need to get rid of your old appliances, you can sell them for cash to a hauler. This is an excellent way to declutter your home and make money. To ensure that you will have a successful sale, be sure to list your item at a competitive price. Make sure you also include the dimensions and the weight of your appliance. Many buyers will pay a bit extra for delivery.
Remember to provide your contact information. Include a phone number and email. This can allow potential buyers to make an appointment to view your item. Be sure to also include your pickup and delivery times. These details will allow you to get the most for your used appliances.
If you're selling large appliances, selling them on different online websites can be a great option. But be aware that these websites can get buried amid other ads. You may need to advertise on other sites or try a local selling option.
Regardless of where you go to sell your appliances, be sure to take plenty of photos. Good pictures can sell an item quickly. While you won't need to invest in a fancy camera, you do need to make sure you use adequate lighting and that your photos show the condition of your item.
Donate Them To A Thrift Store
If you're upgrading your kitchen, consider donating your appliances. Besides being an excellent way to get rid of some of your old stuff, donating can be a green exercise and a social good for the proper organization.
There are several options on the market, some of which are free. The American Council of the Blind is a reputable organization that runs a few thrift stores. They'll gladly accept any item that has a working power cord. You may also consider a local Habitat ReStore. These charitable institutions collect gently used household items and resell them to low-income families in need.
Another worthy of mention is the EPA's Responsible Appliance Disposal (RAD) program. Their website is an excellent source of information for your disposal woes. Also, the RAD, as mentioned earlier, does not have a fee for the pickup and disposal of your items. This is especially helpful if you live in a small community.
Haul Them Away
If you're looking for an easy way to get rid of your old appliances, hauling them away can be the right choice. There are a few ways to dispose of them, and they can all be found in your local area. Donating your appliances is an excellent option for many reasons. One of the significant advantages is that you can deduct the cost of the donation from your taxes.
Another benefit is that you can find a good home for your appliances. These items may be given to retirement homes or to people who cannot afford new ones. You can also sell them at a scrap metal dealer. This can be a quick way to make money, but you will have to haul the item to a metal recycling facility.
You can also give your old appliances to the Salvation Army. They accept donations of clothing, furniture, and other items. The Salvation Army has a family collection area as well as a church-owned drop center. Some cities have appliance recycling programs. Many neighborhoods allow free curbside pickups. However, checking with your city before installing appliances is always best.
Contact Junk Removal Companies
You can also take your appliances to a junk removal company. Most of these companies will come to your home with a dump truck and remove them for you. It's essential to inform them of what type of item you're removing, and they'll bring the appropriate vehicle.
In addition to this, you can sell your broken appliances at local transfer stations. Doing this is a great way to recycle old appliances and help out your community. When disposing of instruments, finding a reputable company that will treat your items with the utmost care is crucial. 
Several companies offer a recycling program, which can be a good option if you live in an apartment complex. For busy people, curbside junk removal is another good option. Most cities limit the number of bulk pickups you can have in a year. 
Ultimately, you can get the best bang for your buck through junk removal companies. It will declutter the junk appliances near you. At the same time, you can enjoy reliable and professional services from the company. All these can help you with additional needs for removing all your unnecessary items.
Tips To Remember While Getting Rid Of Appliances Near You
When you are getting rid of appliances near you, it is vital to keep track of all the items you are giving away. Similarly, collecting and preserving the details of third-party organizations is essential. Make sure you research well before selecting the final option.
Getting rid of appliances can be a hefty task without the proper precaution and guidelines. No matter what option you are going for, it is vital to have a background check on it. For instance, if you plan to sell your old appliances, you need to keep track of the selling records, potential buyers, prices, etc. Attracting a large customer pool is necessary for selling items.
One of the first things you should do is take pictures of the items you are selling. You can do this using a smartphone or a simple camera. The better the photos, the more likely your item will sell. Also, make sure the photos are well-lit. Grainy, dim lighting can ruin your picture.
Another great thing to do is record a video of the appliance. This can help reassure the buyer that the appliance is in working order. In addition, you can add a link to the manual or manufacturer specifications. These details can help the buyer decide whether to purchase your appliance.
While you're at it, check out some of the many recycling centers near you. Many of these will offer free removal of items in your home and yard. The best part about these programs is that you will be able to pick up the bill. Plus, you'll feel good about using your used items. 
Just make sure to provide the details when you set up your appointment. You might also be able to score a fantastic new appliance in return. Getting rid of used and unwanted items can be a reason for your wallet and pocketbook. Lastly, be sure to do your homework and find out what recycling and donation programs are available before you start.
Conclusion
Appliance junk removal is necessary for many people to declutter their homes. It can also become an effective way to create sustainability and positivity in your environment. With the right tools and techniques, you can conveniently get rid of appliances near you. Otherwise, decluttering and appliance junk removal will become challenging tasks for you.
So, through these ways, you can efficiently dispose of appliances near you. Make sure to follow the best way that suits your needs for the best results.