Keeping your yard neat and tidy is no walk in the park, especially when it comes to yard waste removal. You have to juggle fallen leaves, pesky branches, mounds of clippings, or other unruly debris. And this can be a really tough nut to crack!
Those fallen branches and tree trimmings seem to multiply overnight and overgrow into shrubs that resemble a jungle. And what is even worse? This creates a sheer volume of yard waste that can be surprisingly heavy and bulky. Then there is the issue of disposal. You can't simply toss all that yard waste into your regular garbage bin and expect the garbage truck to whisk it away. No, no!
However, with the right tools and strategies, you can make this task much easier and more efficient. So, if you also want to get rid of those piles of fallen leaves, grass clippings, or yard debris, no more worries! To help you make light work of this task, we have compiled an ultimate list of the top 6 tools that will make your yard waste removal a breeze. Not only are these tools going to help you have a clutter-free outdoor space, but they also will make it a visually appealing yard. Curious now? Let's dive in!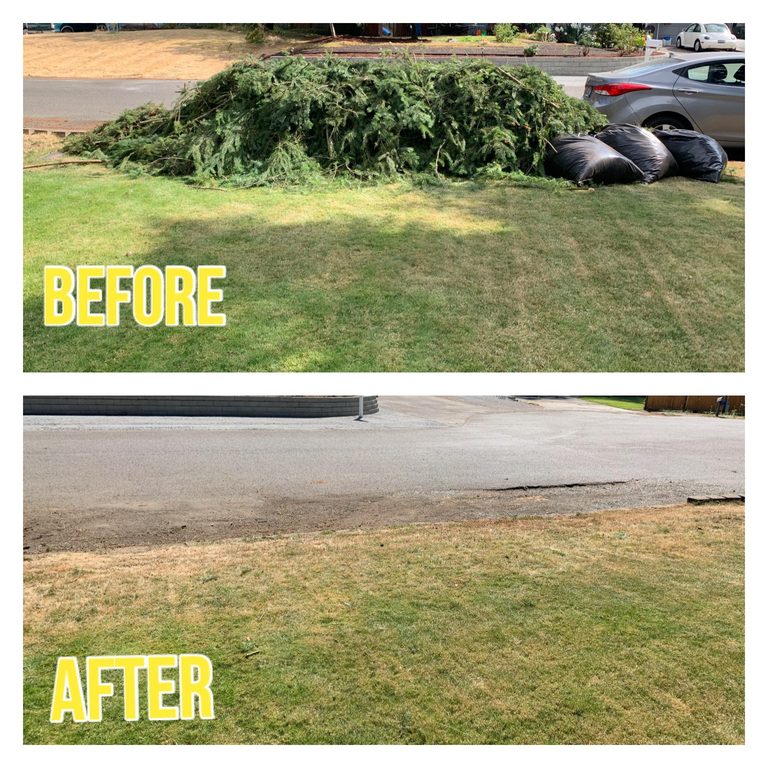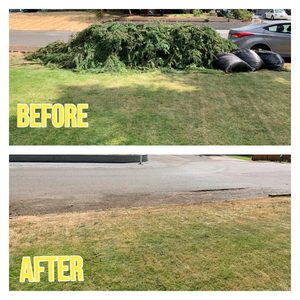 1. Leaf Blower or Vacuum For Yard Debris Removal
First of all, the must-use tool for yard debris removal is a leaf blower or also called a vacuum. Gone are the days of backbreaking labor; let the leaf blower do the work for you. This tool has a remarkable blowing capacity, so you can corral all fallen leaves into tidy piles within a couple of minutes. And that's not all! With just a flick of a switch, this versatile tool transforms into a vacuum that effectively sucks up any other lightweight debris. That means no more backbreaking work left for you!
When using a leaf blower or vacuum, start from the farthest end of your yard and work toward the disposal area. This way, you can blow or vacuum the leaves and debris in one direction, making it easier to collect and transport.
2. Rake: The Sidekick for Yard Cleanup
Who in the world isn't familiar with this nifty gadget, huh? This timeless yard tool remains unbeatable in handling scattered debris all over the yard or garden. With its wide, fan-like head and sturdy handle, a rake allows you to gather leaves, grass clippings, and small twigs easily into neat piles.
But wait, there is an important thing to keep in your mind. When you're in the market for a new rake, always make sure it's leaf-friendly. Sure, those heavy-duty rakes are fantastic for tackling tough soil. But when it comes to raking leaves without wreaking havoc on your precious lawn, you really need a fan rake for yard waste removal. So, it's wise to invest in a sturdy plastic rake that's not only highly durable but also gentle on your yard's vegetation.
3. Wheelbarrow and Yard Waste
When your yard waste piles up, it's time to call in the beast of burden – the wheelbarrow! These mighty vehicles transport hefty waste from your yard to the designated disposal area. As you see, due to its robust construction and large capacity, it can easily handle a huge amount of yard debris. From piles of branches and numerous bags of leaves, you'll be amazed at how much you can haul away in one go. You just need to be sure to choose a wheelbarrow with strong handles and durable wheels to handle the weight.
One more thing to remind you: To make the best use of a wheelbarrow, place it close to the spot where you'll be gathering the yard waste. This minimizes the distance you'll have to travel while carrying heavy loads for yard waste removal. In addition, distribute the weight evenly within the cart to avoid jarring movements that could lead to spills or strain.
4. Pruning Shears Helps Trimming with Precision
Taming overgrown bushes, shrubs, and branches can be a real pain in the neck, no doubt about it! Here's where pruning shears come to the rescue. This yard waste removal tool allows you to remove unwanted growth efficiently and effectively. Whether you're snipping away uneven branches or giving your hedges a fresh, clean look, these cutters are the go-to tool for the job. In short, any yard debris doesn't stand a chance against a pair of pruning shears. Moreover, you get precise cuts and a well-groomed yard – thanks to sharp blades and ergonomic designs of pruning shears.
Before using pruning shears, you should always clean and sharpen them for efficient cutting. Make clean, angled cuts close to the main branch or stem to promote proper healing. Plus, regular pruning not only keeps your yard looking neat but also promotes healthy growth and improves the overall appearance of your surroundings.
5. Trash Chipper for Transforming Yard Waste into Gold
If you find yourself faced with a mountain of yard waste or those pesky oversized branches, a trash chipper can genuinely save your day. This fantastic machine has the ability to chop and transform your bulky waste into smaller, more manageable bits – making yard debris removal or repurposing easier. And here's the cherry on top: Some chippers even produce nutrient-rich mulch that can work wonders for your beloved garden. Isn't it a win-win situation for both you and Mother Nature?
6. Dumpster Rental: A Lifesaver For Your Yard Projects
When tackling regular yard cleaning or a massive cleanup effort, a dumpster rental can be a lifesaver. These sizable roll-off dumpsters provide ample space to efficiently collect and helps in yard waste removal. It provides a convenient way to dispose of a significant volume of waste all at once. So, you can save multiple trips to a disposal site. You only need to fill it up as you work, and when you're done, it's hauled away like magic. It's the ultimate cleanup convenience!
The Best Yard Waste Removal Near Me: Busy Bees Junk Removal
Need help with yard debris or waste removal? No doubt your search ends here! Busy Bees Junk Removal is the best yard waste removal near you. Well, that's not just our claim! When you search for "junk removal near me," Google recognizes us as Busy Bees Junk Removal, a top choice for a good reason.
We specialize in efficient yard waste removal, which makes your outdoor space remains clean and beautiful. Whether it's unwanted junk and clutter in your home or yard, we've got you covered. We strive to offer same-day exceptional junk removal server whenever possible, ensuring a quick and efficient solution to your clutter problems.
Don't let unwanted junk take up valuable space and cause unnecessary stress. Trust Busy Bees Junk Removal to handle it all while making a difference in our community.
Call Busy Bees Junk Removal or book online now for reliable, professional,
and community-driven junk removal services.
Together, we can declutter your life and nourish the community we call home.