Do you have an old hot tub taking up space in your backyard? Make it a priority and get it hauled away this week. Hot tub removal can be challenging and time-consuming. Leave the stress to our team of experts, who can help make the process as smooth and stress-free as possible. Call us today to schedule your hot tub removal online.
Why do you need hot tub removal services?
There are several reasons why you may need professional removal services. Perhaps your hot tub is old and no longer functioning correctly. Maybe you don't use it anymore and want to free up space in your backyard. Whatever the reason, our team of experts can safely and efficiently remove it. After a while, your hot tub, spa, or jacuzzi will need to be replaced; this is because hot tubs have a shelf life that can range from a couple of years to a decade on average when it's time to replace your old hot tub because of hot tub leaks that you are tired of fixing or expensive motors that no longer work. It won't be a simple task when it's time for your hot tub disposal.
What is the process for removal?
The process for removal varies depending on the size and location of the hot tub, as well as any obstacles that may be in the way. Our team of experts will first assess the situation and determine the best approach for removal. This may involve draining the tub, disconnecting any electrical or plumbing connections, and dismantling it into smaller pieces for easier removal. We will safely and efficiently remove the hot tub from your property, leaving your outdoor space clean and clear.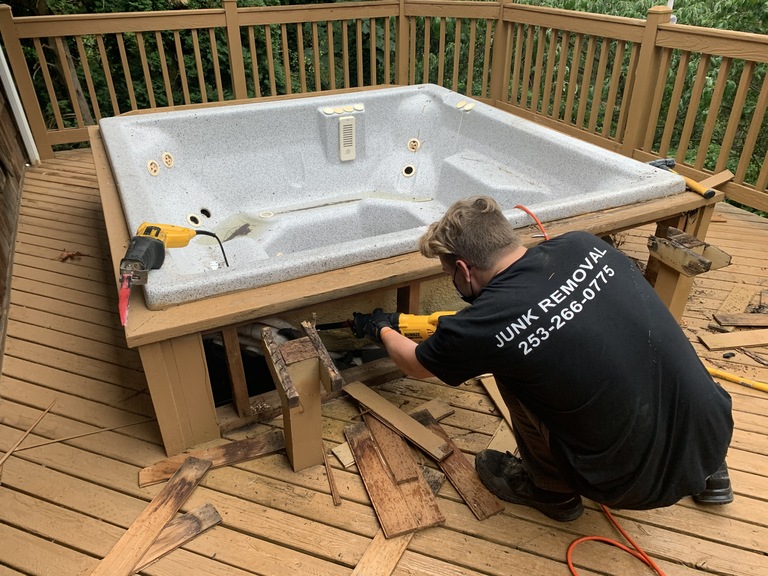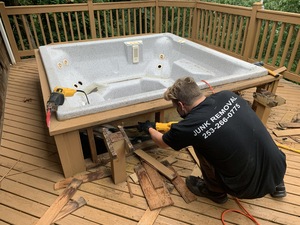 Do I need to empty my hot tub before you pick it up?
Busy Bees Junk Removal will always recommend that you have your hot tub drain of water, or we have to add a fee to dispose of the water and the additional time. When you leave water in your spa or jacuzzi, it makes it challenging to remove. We take hot tubs in one piece, but sometimes it requires the hot tub to be cut into small pieces so that it can be hauled away. 
How much does hot tub removal cost?
The hot tub removal cost can range between $350-$550. The price range depends on several factors, including the removal process's size, location, and complexity. Our company offers competitive pricing. In addition, we will provide you with a detailed quote before beginning any work. We aim to provide hassle-free removal services at an affordable price while giving back to our community. For every customer we serve, we donate to our Puyallup Food Bank. Our donation provides twenty meals to our local community.
What do I need to look for in a company?
When choosing a removal company, it's important to consider their experience, reputation, and pricing; check out our reviews. Look for a company with experience removing hot tubs. It would also be a benefit if they offered other junk removal services. Also, look at their Google reviews and check their track record of providing quality service. Check online reviews and ask for references to ensure the company has a good reputation. Finally, compare pricing from different companies to ensure a fair and competitive price for the removal services.
We will take the hot tub to a recycling center or landfill.
We take the hot tub to a nearby recycling center or landfill. Choosing a company that follows environmentally-friendly practices and responsibly disposes of the hot tub is important.