Are you looking for any service that can effectively remove your junk and haul it away? You may have spent hours searching for the best hauling services near me. But did you find any satisfactory results? No! Because so many options can let your head spin. However, when it comes to hauling away junk and decluttering your space, you need a top-notch company that works accordingly with your expectation, demands, and cost. Finding all these services in a single haul-away company can be truly challenging. Schedule today to have a no-obligation haul away or an in-person quote.
But luckily, your hunt for the haul-away junk near me ends here! We, Busy Bees Junk Removal, are the excellent local haul-away junk removal team that'll make your decluttering dreams come true. This article will explore what makes us the absolute best hauling services and how we stand out from other haul-away trash companies. Let's discover!
1. Our Comprehensive Hauling Services
At Busy Bees Junk Removal, we believe in providing a comprehensive full-service experience for our customers. Our dedicated crew can handle almost anything you need to be hauled away – except for paints, chemicals, and commercial light bulbs. We've got you covered, whether furniture, appliances, electronics, or yard waste. And the best part? Our team will do all the heavy lifting, no matter where your items are located.
Moreover, your junk removal quote includes labor and disposal fees, eliminating hidden charges. This means you will get disposal finesse rolled into one fantastic package like no other.
2. We Are Puyallups Local Hauling Company
Busy Bees Junk Removal isn't any run-of-the-mill hauling company. As a local veteran family-owned business, we pride ourselves in offering you personalized service and competitive prices. These qualities let us beat even the larger franchise companies. Similarly, as we are deeply rooted in the community, you can find your haul-away services available on your doorstep.
3. Affordable Haul Away Costs
Let's get real for a sec. We know that hauling away junk can make you worry about the costs. But no need to worry if you are hiring Busy Bees Junk Removal!
We do our best to bring excellent hauling service with transparency and fair pricing. In the Puyallup area, our average cost for hauling away junk is $428. But guess what? You can tailor the price to the volume and weight of your items, starting from a wallet-friendly $125 for small jobs. And here there's a more fantastic thing! We provide a breakdown of the labor and disposal fees, ensuring you know exactly what you're paying for. In short, you can save up to 20-30% over a larger franchise company by hiring Busy Bees Junk Removal.
4. What We Do With the Debris from hauling services?
We believe the environment should be the first and foremost concern of every haul-away junk company. Likewise, we prioritize eco-friendly practices while disposing of unwanted items. We aim to minimize landfill waste by donating, recycling, reusing, or repurposing as much as possible. Furthermore, the highly-professional crew carefully sorts the items, separating recyclable metals, commingled recyclables, reusable items, and items suitable for repurposing or donation.
5. Special Hauling Services for Seniors and Single-Item Pick-Ups
Here is an exclusive treat for elderly people! We know that seniors deserve extra sweetness in life. This is why we offer a delightful 10% discount, up to $100, for our seasoned citizens, regardless of the load size.
Moreover, if you've got a single item that needs a pick-up, you can have a 25% off deal, slashing the regular price of $125 to $99 only. This means your unwanted clutter will be hauled away while keeping your wallet happy. These special offers are to make hauling away easier and more affordable. So, everyone can benefit from our top-notch hauling services.
6. Community Is Our Top Priority
At Busy Bees Junk Removal, giving back to the community is at the core of our values. That's why our busy bee crew volunteers their time to clean up the trash on Canyon Rd and other cross streets. It's a significant step to make our community a cleaner, healthier, and better place for all.
However, our community services don't end here. We donate 20 meals to the Puyallup Food Bank for every customer we serve. In 2022, we helped create over 26,000 meals for the Puyallup Food Bank. And we guarantee to keep this community buzz going! But we're not just about junk removal; we actively contribute to making a positive impact in Puyallup.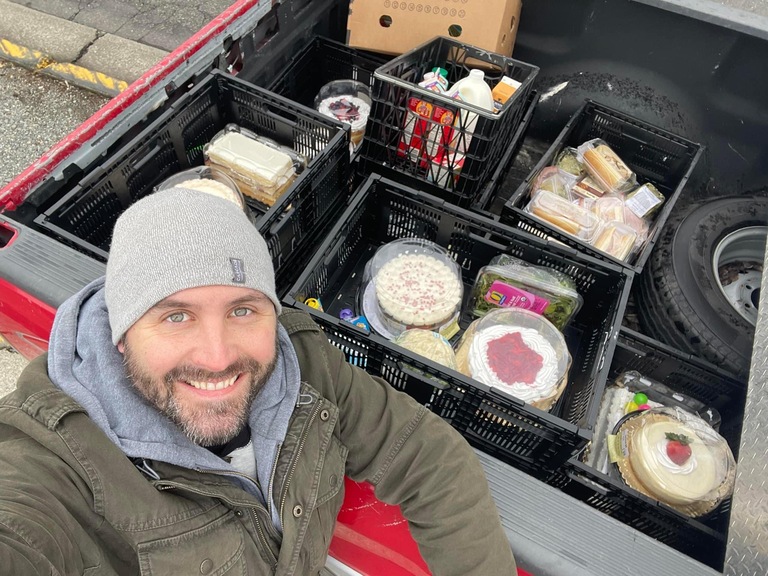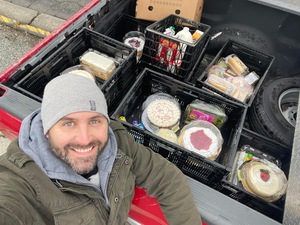 7. Proper Disposal From Hauling Services with Trash
Want to know more about how we haul away and dispose of your junk? As a responsible and environment-conscious company, we stick with the proper disposal methods that are kind to our environment. You can trust that your haul-away trash will be handled mindfully to minimize landfill waste and reduce pollution.
For instance, we sort your items into different groups; recycled metals, commingled recyclables, reusable items, and pieces that can be repurposed. In this way, we ensure maximum recycling and reuse of material. So, by hiring us, you can also contribute toward the betterment of our planet!
8. Versality in Hauling Away Appliance And Furniture Near Me
Last but not least, versatility is one of the greatest features of our services. We have covered you, whether it's a bulky refrigerator, an old piano, a worn-out sofa, or a hefty washing machine. Our experienced team knows how to handle these bulky items carefully, ensuring a smooth and efficient removal process without damaging your lovely home. Therefore, we have been providing extended services to handle those heavyweights easily.
Conclusion
Busy Bees Junk Removal stands out as the top choice in the Puyallup area for finding the best hauling services near you. We are proudly providing excellent haul-away trash services that are second to none. Even though our service is affordable and friendly to your budget, we provide special offers for seniors and give back to the community. Whether it's a broken appliance you want to haul away or old furniture, we can handle every heavyweight item with utmost care. Moreover, we genuinely ensure proper disposal of your junk.
So, why wait? Trust us to declutter your space and make your life easier. Contact Busy Bees Junk Removal today and experience the difference for yourself!Ha