Couch removal can be an emergency or a long-time coming. In either case, if you don't do it right, it can land you in monetary and social problems. Meanwhile, proper couch removal and disposal not only benefits you but also does the environment and your community a favor. So, you must be wondering, " How can I get rid of my old couch?" Well, here's the answer. 
There are a few options when you are burdened with a couch that has become a misfit. For instance, if the couch's condition is relatively decent, you can try donating it. You can even fix it and resell it for a good price. A professional couch removal service is also worth your consideration.
Are you at a loss about what to do with your old couch? Well, your solution varies according to the situation you are in. Follow this discussion to explore all your options.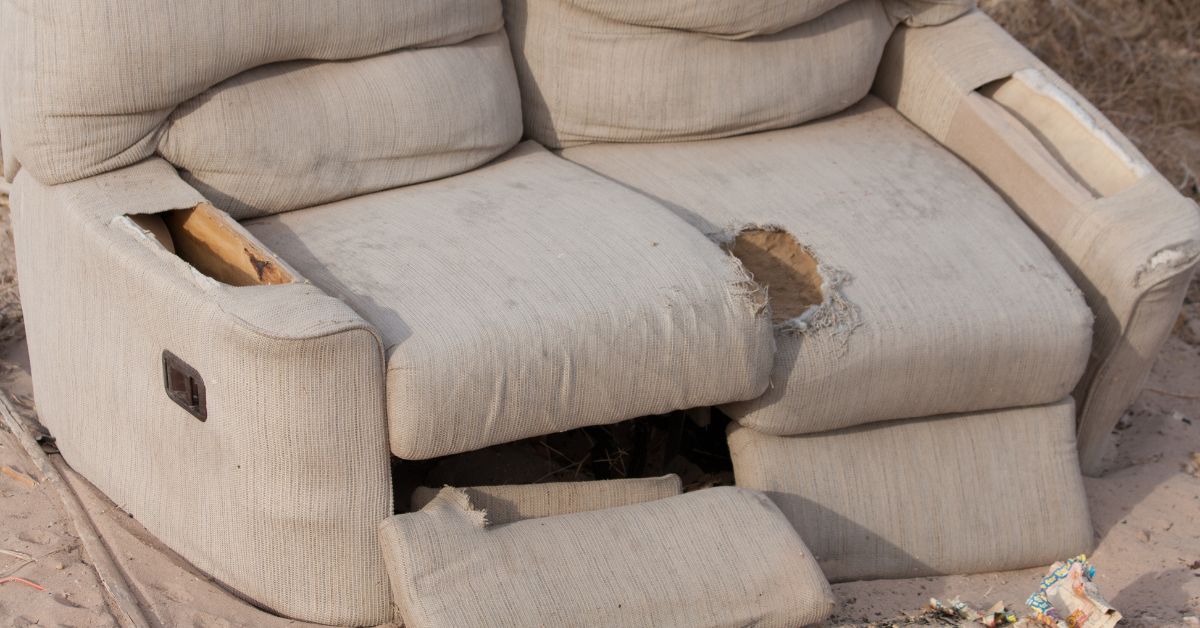 Ways To Get Rid Of An Old Couch 
There are multiple ways to get your old couch off your hands. You could donate it, fix it, or sell it. However, how do you know which of these options will suit your needs?
Donating
Donating an old couch is a great way to save the environment and provide an opportunity for individuals or families to make a difference. Getting rid of a couch can be easy, and there are many options for doing so. But there are a few things to remember if you want to donate your old couch.
Charity Thrift Store
One of the best solutions is donating to a charity thrift store. These stores are a great resource for people on a budget. Not only are they a source of furniture recycling, but they also have tax incentives to help you.
Salvation Army
You can also donate your couch to the Salvation Army. This organization offers free pickup. Depending on the length, weight, and condition of your couch, you can either drop it off at a local drop-off center or have it picked up at your home.
Furniture Bank
Lastly, you can donate your couch to the Furniture Bank. This nonprofit organization works with individuals and businesses to provide furniture to low-income communities. Many of the Furniture Bank's rules vary from one area to the next, but in general, couches that are in good condition are accepted.
While many nonprofit organizations offer free furniture removal, you may not have time to wait around for your old couch to be picked up. However, if you need to remove it immediately, you can rent a dumpster from a trash service. Some services will even pick up occasional large items for free.
Whether you are a parent looking to get out of an abusive relationship or an arts program looking to give back, donating your old couch is a great way to do so. It's also an ideal way to turn a simple shelter into a real home for someone in need. And, when you donate, you can feel good about knowing that you've made a difference.
Donating your couch to a charity is a simple process. It's much simpler than you might think. Just consider these tips, and you'll be able to find a charity that will take your old couch.
Selling
You're not alone if you're looking to get rid of your old sofa for a few bucks. Most people throw out their couches after an accident, or they decide to upgrade to something new. However, there are some things you can do to maximize your old furniture and turn it into cash.
Measure the Piece
The first step is to take measurements of your couch. This will give you somewhat of an idea of what it will cost. A good price should match the condition of the couch and its size. Once you've determined your price, it's time to list it. You can either do this online or in person.
Keyword Strategy
Using the right keywords is a smart move. These words should be relevant to your audience. Generally, the most important words are the ones that best describe your item. Using the right lingo is the cheapest way to make your sale.
Take Some Good Photos
Using the best possible images is also a must. You want your post to pop up in a Google search. It's a good idea to get a clear shot of your couch before you put it up for sale. Also, make sure you have a nice, clean background. Your post won't get a lot of clicks if it's cluttered.
Visit A Recycling Center
While the most effective way to sell your old sofa is to donate it, you might be able to salvage a few bucks by taking it to a recycling center. That is, if it's not too damaged. But if it's broken, ripped, or otherwise in need of repair, you're probably better off finding someone else to take care of it.
There are hundreds of options for getting rid of your old sofa. However, you might be better off using a professional junk removal service. They'll do the heavy lifting while you focus on what to do with the rest. 
If you're in Phoenix, you're in luck – there are tons of recyclers in the area! Take advantage of this and save yourself the hassle of selling your old couch! You'll be glad you did! And you may even have some savings to boot!
Fixing it
If you have an old couch, you might want to consider fixing it before you throw it away. A DIY approach is cheaper, faster, and more effective. You can find some online resources to help you get started.
Diagnose the Problem
The first step is to assess the condition of your couch. Look for loose screws and bolts and detached springs. Sagging or loose cushions can also be a cause of your couch sagging. Once you know what the issue is, you can fix it.
Next, check the wooden frame. It's important that you replace broken or cracked wood. Broken wood can't support the springs. If you have a metal frame, it might be easier to replace the springs.
During this process, you will need to measure the frame to ensure that you're replacing the correct pieces. You can use tools like a metal bracket repair kit or a screwdriver to replace the broken parts.
Reupholstering 
Another way to make your couch look new again is by reupholstering it. Reupholstering will not only give your couch a fresh, new look, but it will also save you money. Depending on the material used for your sofa, you might need special tools to make the repairs.
Lastly, remove any dust covers. This will enable you to see the underside of your couch more easily. Alternatively, you can cut a line along the edge of the fabric to make it easier to assess the couch.
If you have a sagging couch, you can use plywood to support the cushions. This method requires a little more work but will give your sofa a firmer feel.
In addition to using plywood, you can also replace the slats on the frame. Metal frames are harder to replace, but if you have the time, you can repair your sofa with pliers or an Allen wrench.
For sagging or broken springs, you will need special tools. These include a staple remover and a compressor tool. Using these, you can tighten and secure the springs.
How Much Does Couch Removal Cost?
Professional furniture removal services are a great way to deal with the hassle of getting rid of a couch. They also save you from the unfortunate incident of pulling your back or hurting yourself in another way during the process.
On average, the price of a couch haul-away service start around $125. However, this isn't set in stone. Depending on various factors, sometimes the price can be as high as $350 for a theather type sectional couch. Let's look at the factors that influence couch removal prices. 
Size of the Furniture
Furniture removal services quote their prices based on the average size of the piece in question. For instance, an average couch is six to seven feet in length. Usually, such a piece will weigh around 300 pounds. You will need two able-bodied people to remove such a couch. 
In that case, your couch removal costs will be in the average range. However, if your furniture is heavier and lengthier, it will require more hands for the removal. Consequently, you have to pay for the extra labor, and the prices will add up. 
Location of the Couch
As you can understand, the price of couch removal services depends mostly on the degree of difficulty the team faces. So, if your front door opens directly into the living room, and the couch is just a few feet away, the team will easily remove it. In that case, your bill will be on the lighter side. 
Likewise, the job will be more difficult if your couch is on the second or third floor of an apartment building. There will be stairs and a lot of extra distance for the removal team to deal with. Naturally, they will charge you for this added difficulty and your couch removal costs will be much higher.
Dismantling 
You can expect to pay more than the average price if your couch requires dismantling. It probably requires dismantling if you had to mantle the couch inside your room when you first bought it. These designs are usually impossible to haul away in one piece through the door. 
Dismantling requires a different level of labor and expertise. So, the crew will charge it as a separate service alongside the basic cost of removing the furniture from your home. If you have the confidence and tools, you can try dismantling yourself to cut these costs.
Conclusion
Choosing the proper service is a must if you want things to end for your old couch in the best way possible. At Busy Bees Junk Removal, we ensure the most eco-friendly disposal of your couch. Meanwhile, Busy Bees will take care of the donation process if it is in decent condition. That way, you can know that the old couch has found a new and welcoming address.