Hey there! We understand that you have too much unnecessary junk in your residence. Hoarding junk is a common problem we realize too late. Hence, you're wondering, "How do I get rid of my residential junk in Tacoma?". You've come to the right place! 
There are mainly three ways to get rid of Residential Junk in Tacoma. Firstly, you can do it yourself by using a vehicle. The next option is to call a junk removal service near you. And the last option is to give it up for extra money.
But that's just a general idea of the concept. Read to learn how to dispose of carpets, electronics, and other residential clutter. You'll also find out where to dispose of your stuff safely. So, let's get started!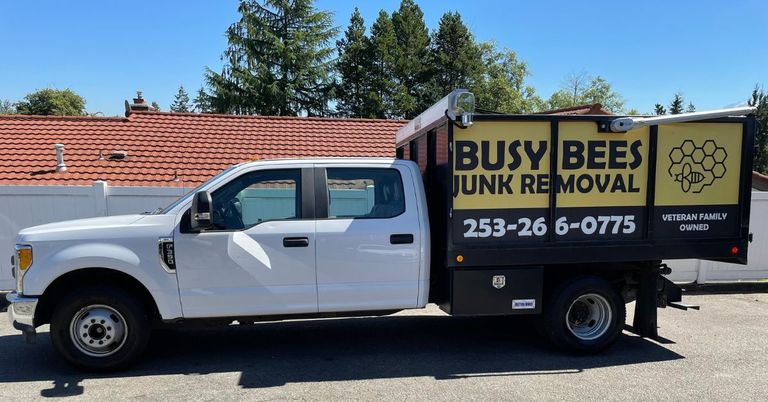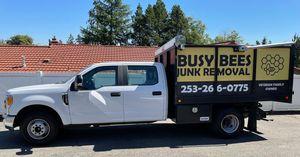 Different Ways to Remove Your Residential Junk in Tacoma
You should know what to do specifically for different types of junk. And if the DIY stuff is overwhelming, don't worry! We'll provide the most efficient ways to deal with such problems. To make things easier for yourself, separate junks (they might be helpful later). So, without further ado, here are the ways to haul away garbage in Tacoma. 
Electronic Waste
You're not alone if you're looking for ways to eliminate residential electronic waste in Tacoma, Washington. Many different companies provide services for the disposal of this type of trash. The best one for you is the Tacoma Transfer and Recovery Center. The facility accepts garbage, recyclables, and household hazardous waste in the King County dump. 
It is closed on Thanksgiving, Christmas, and New Year's Day.
Other places to get the best bang for your buck regarding electronics recycling are in Tacoma. These include the Tacoma Municipal Building, Rain City Recycling, and E-Cycle Washington. All three provide free electronic waste recycling opportunities.
Several retailers offer data destruction services. These services can keep your personal information secure. You can also find software online to perform the same task. Whether you recycle or dispose of your electronics, make sure you take the time to remove any sensitive information that might end up in the trash. A solid e-waste sustainability plan will help to protect the environment and prevent you from being sued for negligence.
If you want to recycle the old TV in your home, LoadUp is the way to go. This haul-away junk removal service takes the stress out of the task by ensuring that televisions are disposed of safely and responsibly. When you do the math, you can see that you're saving considerable money by removing unused televisions from your home. They'll also make sure that your television is sanitized and recycled.
Another great way to reuse and recycle your old electronics is to call your local junk removal company. Many people pile up a bunch of junk over the years. While this can be a nuisance, you'll be glad you did it when you realize how many things you can actually do with the items you've accumulated. Local junk removal companies can help you dispose of your old electronics in a safe and efficient manner. For example, you can get a free quote today.
Finally, keep your old equipment from your garbage bin if you're looking for a new laptop or computer. Instead, check with the Tacoma Public Utilities Lobby to find out where you can drop off unused chargers for free. Once you've found a reliable place to donate your electronics, you'll have a clean house in no time at all!
Getting rid of the old PC is more complex. Some businesses upgrade their PCs as they age, while others discard them and replace them with more modern models. However, it's essential to understand that electronics contain toxins. Even when they're recycled, they can still pose a health hazard if they aren't disposed of correctly.
Carpets
If you're looking for the best way to get rid of the carpet in Tacoma, you've come to the right place. A carpet removal service is a great way to ensure your home remains clean and healthy for you and your family. You'll also enjoy a newer and cleaner house with no worries about spills, stains, and odors.
There are many ways to remove your old tats and clean your old floors. However, if you hire a trash removal service, you'll want to do your homework and ensure you get the best possible value for your buck. Choosing the right appliance removal services is easier than you think. Make sure you select the most reliable provider to get the job done the first time.
The most important part of the equation has the proper tools and equipment for residential junk removal. You can get an old tat out of your hair with the right tools, but you will only get the same results if you know what you're doing. 
Also, the best option is to hire an expert who knows what they're doing. Doing the job correctly means having a cleaner home free of odors, spills, and dirt and a happier and healthier family. Plus, you'll save junk removal prices in the process.
So, if you're ready to see your old carpets go, contact a carpet removal expert in your area today. A good carpet company can be a lifesaver and make your home the envy of the neighborhood. 
Whether you're in the market for a new tat or just looking to improve your indoor environment, a professional can help you achieve your goals quickly. Contact one of the leading carpet companies in the area today.
Safe Disposal Methods
If you live in Tacoma, WA, you will want to know how to properly dispose of your residential junk. There are several different options available, but they all have their own unique rules and regulations. It is crucial to find the right solution for your specific situation. If you need more clarification, contacting a company such as Junk King Tacoma is a good idea to help you decide on the best option.
Whether decluttering or cleaning out a storage unit, a junk removal service can help you eliminate unwanted items. In addition to taking care of the actual removal, they can also recycle and salvage your materials. When you choose Junk King, you can be sure the movers will be trained to handle your project safely.
As a city certified as a First STAR city, Tacoma strives to provide its citizens with eco-friendly methods for the safe disposal of their junk. This includes recycling and household hazardous waste. Household hazardous waste can contain harmful chemicals, so you should never dispose of it in the trash or down the drain. You can learn more about household hazardous waste on the city's website.
There are a few places in Tacoma that accept household hazardous waste. One is the Tacoma Transfer and Recovery Center, a facility that accepts garbage, recyclables, and yard waste. And they also offer self-haul and curbside services. The center is open from Monday to Friday and is closed on weekends and holidays.
Another option is to take your waste to a local transfer station. Several different stations are located throughout Pierce County, but some are open only on certain days of the week. To ensure you can use the necessary facilities, check with your local office to see what types of waste you can bring. Some locations may require special equipment for disposal. You might pay a higher price depending on the junk you're disposing of.
Other options include donating your junk to a charity and using a service like G3 Junk Removal. These companies can provide you with a free estimate for your junk removal project. Utilizing an expert will save you time, effort, and money. If you're interested in getting rid of your junk in an environmentally friendly manner, consider using the services of Junkluggers.
This company is dedicated to providing junk removal in a way that saves energy and keeps landfills clean. Their crews are knowledgeable about recycling and junk removal and can offer a free on-site estimate.
In addition to their junk removal services, Junkluggers is a nonprofit organization focusing on recycling and e-cycling. They also provide free on-site estimates and will happily donate items that can be reused.
So, you now have a fair idea of how to get rid of your residential junk in Tacoma. There are many options you can select. Our suggestion is to call a service. This is because they can handle these types of stuff swiftly. Moreover, they offer reasonable prices and know how to differentiate actual junk from junk (if you catch our drift). 
In the end, it's up to you. No matter what you choose, ensure you're confident and learn all the procedures about it thoroughly. Then, estimate the overall costs and benefits for the final purchase. And consider local services if the municipal ones get too steep in price. They also provide discounts for removing junk for older adults. 
Conclusion 
To sum up, there are various ways to eliminate junk in Tacoma. You can do it yourself, but ensure you have the proper vehicle. We suggest the DIY route if the amount of trash is small. Next, you can opt for the municipal dump like the Tacoma Transfer and Recovery Centre. 
Note that there will be additional charges to dump their landfill, so plan ahead of time by contacting them. Finally, you can try the local trash removal companies near you. Usually, they do all types of removal and cleaning activities at a reasonable price. And make sure to follow the advice stated above for types of junk. Take care and keep your house clean!