Being a resident of Puyallup, you might need help with what to do with your junk and you want to know the cost of removing junk through services. Hence, today we're going to talk about junk removal for Puyallup area residents and the costs of removing different types of junk.
The cost of removing junk in Puyallup depends on the type and weight of the junk. The price can go from $160 to $850 or much more. We advise you to evaluate the cost first by talking with the experts you hire. 
This is a  generic estimate that can vary significantly. Thus, keep reading to find out the cost of residential junk removal. Remember, you're not alone in this demanding endeavor. So, let these services help you live a healthy and clutter-free life!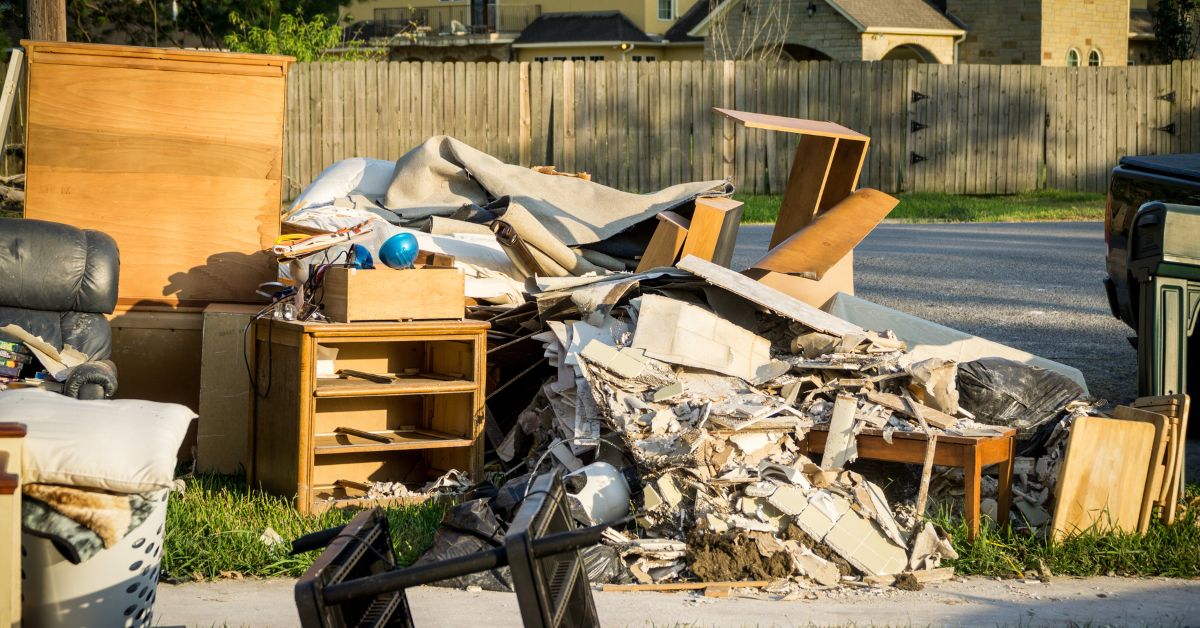 These Are The Costs For Junk Removal In Puyallup
Several different services can be availed of to eliminate junk from your home. This includes furniture, appliances, and yard waste. So if you're interested in finding the best way to rid your house of these items, read on to learn what you can expect from a junk removal service in the Puyallup area.
Junk removal services provide a convenient way to dispose of unwanted items and construction debris. Many junk removal companies also recycle recyclable materials. However, the cost of a junk removal service varies on your location and the type of junk you want to remove.
The size of the truck or trailer that a junk removal company uses for the job will also affect the price. Some companies have trucks that are significantly larger than other companies.
Junk removal can be an efficient way to get rid of old household furniture and appliances. 
If you need to get rid of electronics, use an electronic waste disposal service. These types of services will take e-waste, which is a large portion of the American waste stream. Most of these companies will recycle these kinds of electronics.
When hiring a junk removal service, make sure you research the customer reviews of the company. Often, you will find that a positive review can reassure you that you can trust the company.
Another factor in the cost of a junk removal service is the time they will need to spend on your job. Depending on the amount of work required, the price for a standard job could be as little as $160. Now, let's talk about the costs that can vary according to the type of waste dumped. 
Electronic Waste
When you have old electronics to get rid of, you want to make sure you dispose of them in the most eco-friendly way possible. You can do this by turning them into reusable materials. This includes electronics, glass, circuitry, plastics, and more. Fortunately, you can recycle most of this material for free at a local transfer station.
Electronic waste (aka e-waste) is a large portion of America's overall waste stream. E-waste can range from DVD players to computers, printers, and even fax machines. So, leaving these devices in landfills can severely impact the environment. Fortunately, there are ways to dispose of these products and avoid fines safely.
Several cities offer free recycling drop-off services, and some have a free electronic waste recycling program. These programs are designed to get your old electronics out of your home, recycle them, and put them to use. If you need to dispose of a large amount of e-waste, consider hiring Busy Bees Junk Removal. A standard job can cost as little as $160. However, larger jobs may be in the $850 range.
Most electronics contain valuable metals, so the most environmentally friendly option is to recycle them. To learn more about what you can do with your e-waste, check out the What Do I Do With… website. Although recycling is the most environmentally friendly option, you can't throw your electronics in the trash. You'll need to find a hazardous waste disposal facility if you can't recycle them.
Yard Waste
You have a few choices when it comes to yard waste junk removal for Puyallup area residents. One of the better options is hiring Busy Bees Junk Removal to pick it up. We can also help you to choose the best time for pick-up. Another option is to take your yard waste to the dump. 
Suppose you want to get your waste out of your yard and into the landfill. In that case, it's a good idea to hire a professional junk removal company to do the dirty work. The experts can remove the items you don't want while minimizing weather concerns. Another option is to purchase a bin. These are available at most municipal waste management companies. In some cases, you may be able to recycle your trash in the bin itself. Depending on your local municipality, you could save a bundle by reducing your monthly garbage bill. 
You can learn more about what the local municipalities offer by visiting the Pierce County Recycling and Solid Waste Page.
Appliances
The cost of appliance removal in Puyallup can vary from one service provider to another. Depending on the size and type of your appliances, it can also depend on how much labor is required.
Generally, it is best to have a professional come to your home to haul away your old appliances. They know the right way to dispose of your old appliances and have the necessary equipment to do the job.
The average cost of appliance removal in Puyallup is pretty inexpensive. It can range from $125+ to $185+, depending on  the number of appliances you have and if they contain freon.
You can save yourself a lot of headaches and hassle by hiring Busy Bees Junk Removal to take care of the task. 
Getting rid of your appliances is challenging, and some can be dangerous. Fortunately, there are ways to do it safely, and we are here to help.
Furniture
When you want to get rid of unwanted furniture, you can choose from several companies in Puyallup. You can hire a company to pick up your items and transport them to a landfill or charity. 
Furniture junk removal prices depend on several factors, including location, weight, and the amount of furniture you need to remove.
For larger jobs, the cost can run upwards of $850+. To ensure you are getting a good deal, compare estimates. It's also important to remember that each company has its pick-up specifications.
A furniture pick-up includes a crew of two people, and all supplies needed to remove the furniture safely. This way, the crew will be able to move heavy furniture safely and efficiently.
Whether you are looking for furniture junk removal, electronics recycling, or a property cleanout, you can count on Busy Bees Junk Removal  to provide dependable service. They serve the Puyallup and Tacoma areas. 
When hiring a junk removal service, ensure you check the company's reviews before you trust them with your property or junk. Getting a reliable service can mean the difference between a stress-free cleanup and an expensive mess.
From the above discussion, the critical takeaway is that different types of junk have varied options for getting rid of it. Not only that, but the costs also depend on them and how much they weigh. Therefore, before hiring a junk removal service, note down the amount of junk and what type they are- it will come in handy. 
Do I Need To Be On-Site When The Junk Haulers Arrive?
Many people have a lot of clutter, and a little help can go a long way. That being said, there are plenty of reputable junk removal companies to select from. Most offer a free quote for residential junk removal services.
They may also be able to provide you with a more comprehensive quote, should you require it. You can also get quotes from several junk removal companies at once. This saves you from having to comb through multiple providers.
While at it, you should also ask your junk removal company about their customer service satisfaction rating. You can always refer them to the BBB if you are unhappy with their customer service. The best companies will do their best to help you. 
Here at Busy Bees Junk Removal, we are licensed professionals and bound to be able to help you out. Of course, it's always nice to know that your home and junk are in good hands.
The Benefits Of Junk Removal
Aren't you tired of tripping over clutter in your home or office? Don't you wish you could eliminate all that unnecessary stuff but don't know where to start? Hence, Junk removal is the solution you've been looking for.
Not only does getting rid of clutter make your space more organized and visually appealing, but it can also provide some added benefits. Removing unnecessary items from your home or office can create more room for the things that matter, making it easier to move around and find what you need. It can also make your space feel more extensive and more welcoming.
But the benefits of debris removal go beyond just the aesthetic. Getting rid of old or broken items can also help to declutter your mind and reduce stress. It's hard to relax and focus when surrounded by clutter and disorganization. You can create a more peaceful and productive environment by getting rid of the things you no longer need or use. 
So, the benefits of removing junk are physical, mental, and psychological. In the long run, you need to remove junk to be free from diseases that rodents, and other junk loving pests might bring. Here at Busy Bees Junk Removal, we know life happens and we never judge any situation we might come upon. We are here to help!
Conclusion
So, now you have a clear idea of residential junk removal and how much the cost can vary. In short, it greatly depends on the weight and type of junk you're going to dump. Not only that, but the number of options also slightly varies from junk to junk. So, please consider these factors when you hire a trash removal service.
Additionally, remember you don't need to stay on-site while we remove your junk items. Thank you for reading the article till the end. We appreciate your patience. Stay clean and take care!