During a decluttering, move, or renovation, you may have a lot of items that need to be removed. Fortunately, Junk King Tacoma offers efficient and eco-friendly junk removal services.
They work with local recyclers and donation shops to ensure that all the reusable items they remove are donated, recycled or reused. This saves energy and resources that could otherwise be used to manufacture new products.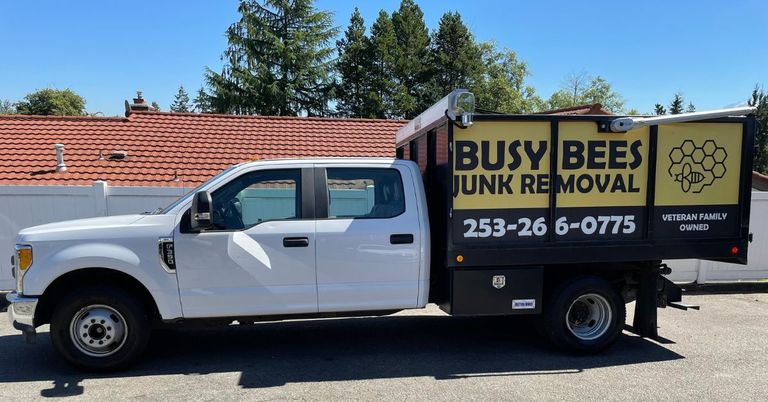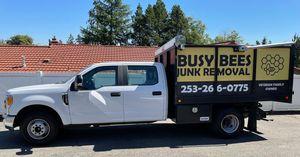 Residential Junk Removal Tacoma
Busy Bees Junk Removal is arguably the best in the business when it comes to junk removal. The company offers an array of junk removal services, from full-service cleanouts to small appliance recycling to furniture and electronic disposal. They offer upfront pricing, friendly customer service, and a top-of-the-line fleet of trucks and vehicles. You can even book a free estimate online.
They also have a dedicated team of professionals who can tackle your home, office or construction site. If you need the best junk removal Tacoma has to offer, call them today. You won't regret it! The team is a fun, friendly group that will do your trash & treasures proud! They are proud to have earned the trust of Tacoma and the surrounding area's most discerning consumers. Unlike other trash & treasure haulers, their crews have a passion for their work and aren't afraid to slay your junk if it means doing the right thing.
Commercial Junk Removal
Busy Bees Junk Removal offers a variety of junk removal services. They offer fast and efficient service to both residential and commercial customers. Their team is well-trained and professional. Their trucks are equipped with tools and equipment to handle a wide range of jobs. They also provide environmentally-friendly junk removal services.
They specialize in recycling electronics and can dispose of TVs, computers, VCRs, DVD players, printers, and other devices with electronic elements. This is an important step in protecting the environment as it prevents these items from causing environmental damage and wasting precious resources.
Their services are cost-effective and convenient as they can handle a large number of junk removal jobs in a single day. They also take care of the necessary permits and secure the right hauler to remove the waste from your property.
The prices for their junk removal services vary depending on the type of waste and the amount of time that they need to remove it. They may charge by the truckload or by individual items. In addition, they may include dumping fees.
Some of the most common junk removal services they provide are trash removal, appliance removal, and furniture removal. They can also help you clean out your garage or basement and declutter your office.
Junk removal costs depend on the type of junk you have, how much space it takes up in a truck, and how far the junk must be hauled to a landfill or other disposal location. The average price for a junk removal job in Tacoma, WA, is between \$106 and \$225 per truckload.
Whether you have old appliances, construction debris, or a hoarding cleanup to do, Tacoma Junk Removal can help you clear out your clutter and make your home or business more comfortable and tidy. They also specialize in the removal of hazardous waste.
They can also take away used carpets and rugs to be recycled. This is a safe and eco-friendly option since unused and unwanted rugs and carpets can cause health and environmental problems if thrown in landfills.
Industrial Junk Removal
Junk removal is not just about getting rid of your old furniture and appliances; it also benefits the environment by reducing waste and pollution. When you hire a junk removal service, they will sort your items into the appropriate categories for recycling and donating. This will help the environment, your wallet, and the local community.
When searching for Tacoma junk removal, you see Busy Bees Junk Removal offers services for residential or businesses of all sizes. Their team handles everything from small appliance cleanouts to full estate cleanouts. They also offer furniture disposal, garage cleanouts, and yard debris removal. They also recycle any items that can be recycled, including electronics and appliances.
The company's staff is incredibly knowledgeable and provides exceptional customer service. The crew is always on time, clean, and efficient. They use the latest trucks and tools for their junk hauling services and ensure your belongings are properly disposed of. They can even handle hazardous waste.
Busy Bees Junk Removal is one of Washington's most reputable residential and commercial junk removal companies. The company's team maintains relationships with local recyclers and donation shops to ensure that all the junk they pick up is recycled, repurposed, or donated. This is the best way to help your local community and the environment! If you're ready to get your junk removed, call today. We'll schedule a time that is convenient for you and your budget. We'll also be able to give you an estimate for the job over the phone.
Recycling
Recycling is a good way to save money and help the environment. The City of Tacoma has several locations where you can drop off your recyclables. They accept items like cardboard, paper products, aluminum cans, and glass bottles. These centers also accept electronics.
The Junk King team in Tacoma maintains relationships with local recyclers and donation shops so that all junk is either recycled, repurposed, or donated instead of needlessly tossing it into a landfill. The team has been in business since 2003 and is proud of its eco-friendly services. They use the latest trucks and tools to safely and efficiently dispose of your junk.
In addition to recycling, the Junk King team in Tacoma also offers junk removal and cleanouts for all sizes of property. They specialize in furniture removal, attic cleanups, yard debris removal, and appliance recycling. They take care of the heavy lifting, transportation, and disposal for you so that you can concentrate on your other duties.
A large number of residents tend to pile up junk at home and at work over a period of time. This leads to a lot of clutter that can become an eyesore. If you are facing the same problem, you should hire a professional junk removal service in Tacoma to remove the junk quickly. Their junk haulers will provide a free, no-obligation estimate for their services and help you dispose of your junk in a responsible way. They will also help you dispose of hazardous waste, including unused paint, oil, and lead-based paints.