Busy Bee's Junk Removal can be your premier destination for convenient and reliable junk removal in the Tacoma area. Our experienced and knowledgeable staff can help make your life easier by providing comprehensive, fast, and reliable services. 
We offer a wide range of junk removal services, from single-item pickups to full-service hauling. So, no matter the size of your junk removal needs, we have the team and equipment to get the job done. Let's take a look at what is included in junk removal services from Busy Bees.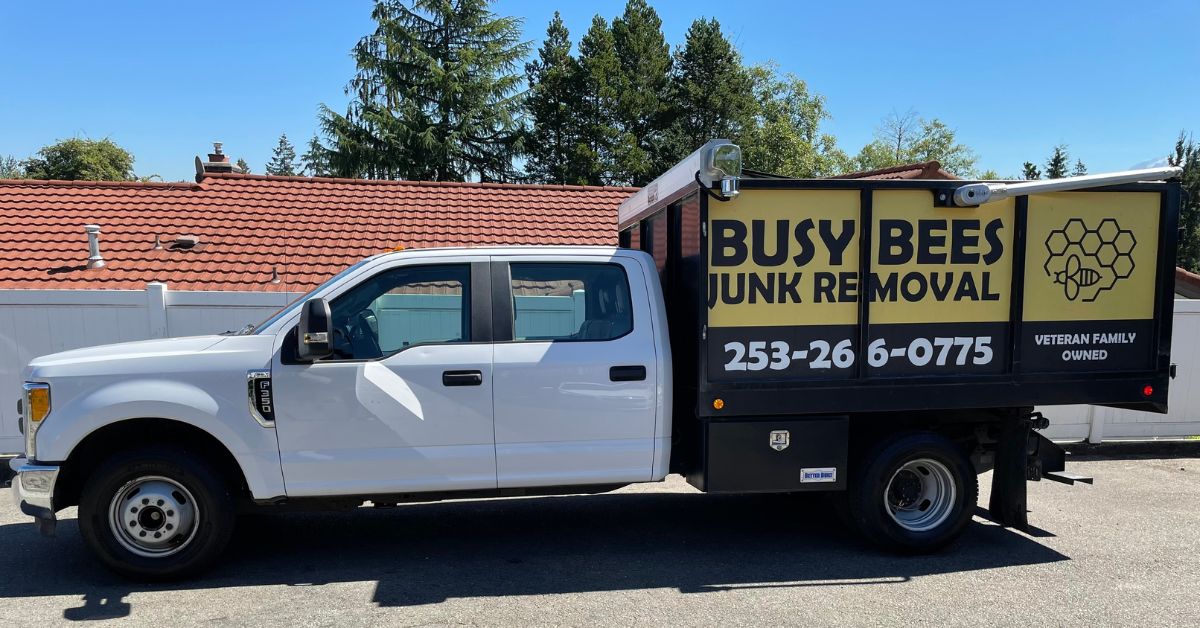 Services Offered by Busy Bees Junk Removal in Tacoma Area
At Busy Bees Junk Removal, we offer a wide range of services at competitive rates. Our experienced team can help you quickly and efficiently get rid of any clutter in your home or workplace.
Debris Removal: We offer same day junk removal and trash removal service for all types of debris, from furniture and appliances to building garbage and yard rubbish.
Waste Removal: We also provide debris removal services for both businesses and residential customers. Our team is here to clean up the mess, no matter if it's from remodeling or another cause.
Device Removal: Our appliance removal service is thorough and reliable. We can disassemble and remove heavy appliances for you, saving you the hassle and mess of doing it yourself. Whether you're replacing an old refrigerator or getting rid of a malfunctioning dishwasher, we'll be there to take it away.
Cleanup after Construction: Additionally, we provide thorough construction cleanup services. We can assist you whether you're coping with the fallout from a residential or business renovation.
Removal of Furniture: We can assist if you're trying to get rid of unwanted furniture. From couches and chairs to desks and tables, we provide a thorough furniture removal service that can remove any kind of furniture swiftly and effectively.
Benefits of Working with Busy Bees
We at Busy Bees are dedicated to providing reliable, eco-friendly, and low-cost rubbish removal services in Tacoma and the surrounding region. Our experts provide prompt and effective service, so you can easily get rid of your unwanted clutter with ease.
Eco-Friendly Rubbish Removal 
We are committed to providing eco-friendly junk removal services. In fact, we take great pride in being environmentally friendly and strive to recycle, donate, and reuse as much as we can. And this allows us to provide effective rubbish removal services while helping to reduce landfill waste.
Low-Cost Rubbish Removal 
We understand how expensive it can be to get rid of your unwanted clutter. That's why we make it our mission to provide the Tacoma region's most affordable services. We offer competitive rates, and our team is always willing to discuss payment options with you.
Flexible Scheduling
We understand the importance of your time, and we strive to make sure that your rubbish removal needs are met quickly and efficiently. We offer flexible scheduling options to ensure that your needs are taken care of in a way that fits your schedule. So, whether you need same-day service or a more convenient time further down the line, we'll work with you to find the perfect solution that meets both your needs and your availability.
The Professionals You Can Trust 
At Busy Bees, we are proud to have a team of experienced professionals committed to providing the highest customer service. We make sure to handle your rubbish with the utmost care and respect, and we always strive to exceed your expectations.
Conclusion
Busy Bees Junk Removal is the perfect choice for all your junk removal needs in Tacoma. Our goal is to provide superior customer service. We provide fast, affordable, and convenient junk removal services for homes and businesses in the Tacoma area. With our professional team and our commitment to eco-friendly disposal, you can be certain that we will take care of your home or office junk in a safe and responsible manner. So, Contact us today to learn more about our services.