Junk hauling services make life easier for you. If it weren't for them, you would have to sort and drag your junk all by yourself and have accidents. But do haul-away companies take everything you throw their way? The answer's no. So, let's learn what items will junk haulers take.
The average trash removal service will take care of old couches, chairs, mattresses, and similar items. As for e-wastes, the preference differs across companies. And no common trash hauling company will take on the responsibility for disposing of toxic and biological wastes.
When you're planning on hiring a junk hauling service to help you get rid of your unwanted items, it's important to know what they are likely to take. Here are some things to consider.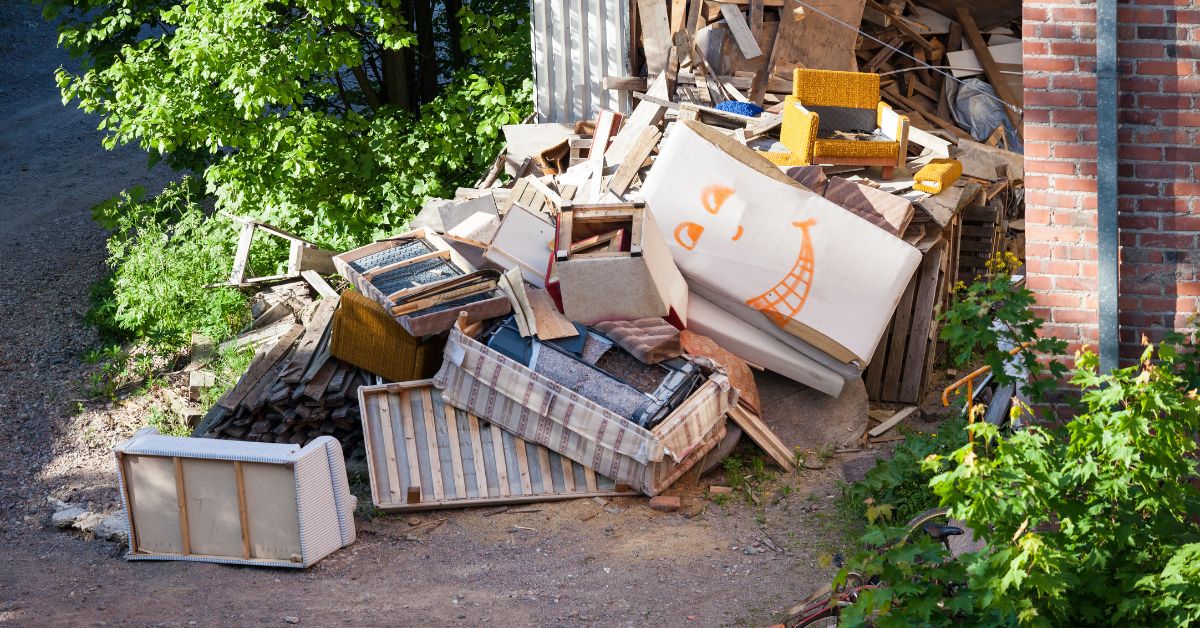 Things Junk Removal Services Will And Won't Accept
Usually, the trash in your home falls into three categories. Firstly, there is old furniture. These include couches, tables, wardrobes, mattresses, and such.
In other words, stuff made of wood, metal, and clothes. Almost all hauling services accept these. However, they might not if the furniture in question is too heavy or in a dangerous location in your house.
Secondly, there are e-wastes. These include television, fridge, computers, washing machine, and similar items. If you plan to remove these items, check with the hired company to see if they accept them. Electrical items possess certain dangers. So many inexperienced services steer clear of them.
Lastly, there are toxic wastes. These include paints, chemicals, pharmaceutical products, human waste, etc. Ordinary junk haulers wouldn't accept these. You have to contact services specializing in toxic waste to get rid of them.
What Are Your Options For Junk Removal?
Household junk hauling isn't just about getting the trash out of your home. Instead, the process is completed when you properly dispose of the items. This means you have to be careful not to hurt the environment. Plus, ensure that the items you have given up find their best use elsewhere.
Recycled Junk
Junk removal is one of the most important parts of decluttering your home. It involves removing a wide range of items from your home. These include old furniture, defunct appliances, shipping boxes, etc.
Finding a junk hauler who takes care of your unwanted materials responsibly is always a good idea whether you're a homeowner, renter, or business owner.
While many companies will take your items to the local dump, others offer more environmentally friendly options. If you want to ensure that your materials are disposed of safely and environmentally friendly, consider a company with a recycling program.
Recycling is breaking down waste into raw materials that are then used to create usable products. Typically, the raw materials are packaged and transported to a recycling center. Depending on your location, some cities have curbside programs.
Regarding recycling, several factors can affect the price of the removal service. For example, if you have large, bulky items to dispose of, the cost can be considerably higher than if you only have a few small items.
The cost of recycling will also depend on the type of junk that you have. Some types of junk, such as mattresses, may have a higher disposal fee. However, if you have electronics, there are a few ways to reduce costs.
Fortunately, plenty of junk-hauling companies make an effort to recycle. A few of them include 1-800-GOT-JUNK, College HUNKS, and LoadUp. Each of these companies has a reputation for customer satisfaction. They also commit to recycling and donating as much of their scrap as possible.
Dispose of Items at A Waste Management Facility
You can do two things when you get rid of your old stuff: dispose of it in a landfill or reuse it for something else. Some towns even offer a curbside program. You can also visit a Transfer Station, which can accept various items, from discarded clothing to appliances.
One of the smartest options is to visit a waste management facility to see if your town has a service that will take your old furniture and electronics. Most towns will have a one-day-a-week or more frequent collection, but be sure to call ahead to confirm. Keep in mind that larger items may require special preparation.
Talking to a local recycling coordinator is another great option. These volunteers are happy to give you information on the best facilities in your area. They may also have the latest information on recycling programs and events in your town.
If you do not have the capability to do it yourself, several services will take your trash and recycle it on your behalf. This is particularly helpful if you have small children. Alternatively, you could take your trash to a recycling drop-off near you.
Hire A Professional Junk Removal Service 
The best way to deal with your trash is to hire a professional junk removal service. Just type in 'junk hauling near me,' and Google will show the most competent business in your area. Surf their websites, reviews, and prices to find a suitable company. Here are the top suggestions.
Jim's Hauling
If you are looking for a junk removal service, you have come to the right place. Bro's Hauling offers free estimates for junk removal in Jim Thorpe, PA. Their crews are friendly and helpful, and their services are affordable.
One of the perks of working with Bro's Hauling is that they will take most items, even those that contain electronic elements. Electronic waste is a huge component of America's waste stream, and most haulers recycle these items. Depending on the size of the job, it can cost as little as $100 or as much as $500.
Bro's Hauling offers other services: trash removal, construction waste removal, and estate cleanouts. Call Bro's Hauling to schedule a free quote today if you need any of these services. They will be happy to take on any project you might have.
Although you might think there are several junk removal services in the area, you will want to be sure to choose the one you can trust. When it comes to household waste, you want a company that will take good care of your property and helps you get rid of it in the most environmentally-friendly manner possible.
This is what you can expect from Jim's Junk Removal. Whether in Dauphin County, Adams County, Lancaster County, or York County, you can count on them for the service you need. And because they're based in Jim Thorpe, PA, you're not far from their service center.
You'll have a trained professional crew to help you clear out your home or office, and they will haul your junk away quickly. Using their service is a wise investment.
The Junkluggers of New York City
If you are residing in New York City and are looking for junk removal services, then The Junkluggers of New York City might be for you. They provide home cleanouts and commercial trash pickups. It is important to know that their services are eco-friendly. Not only do they remove items for you, but they also recycle them and donate them to charity.
They even provide tax-deductible receipts. In addition to this, their employees get to do some heavy lifting. Their management is excellent and always takes the time to hear out their employees. Another benefit of being a Junkluggers employee is that they can get a workout in every day. Plus, they can earn a nice tip.
The Junkluggers of New York City has a great reputation in the junk removal industry. So if you live in Manhattan, Brooklyn, or the Bronx and require junk removal services, you can count on them.
With their many years of experience and high customer service level, you will surely be satisfied with their services. Aside from their junk removal services, they are also furniture removal and recycling experts. You may consider hiring them to clean out your home, basement, or office. Do not hesitate to call their customer service line at 888-Junk-O-Matic.
Alternatively, you can visit their website to learn more. Whether you are a business or a homeowner, Junkluggers will make your life easier. Providing you with a next-level experience is their goal.
This company does what others can't. Try them out today. You will thank yourself later! CLICK HERE to learn more about The Junkluggers of New York City.
Busy Bees Junk Removal 
Busy Bees Junk Removal will surely pop up in your search results if you are located in Puyallup, Tacoma, Washington, and nearby areas. The company offers some of the most affordable rates in junk removal. The customer service is highly responsive, and you can easily get a booking via their easy-to-use web interface.
The service is well-known for its eco-friendly approach to dealing with junk. They will skillfully sort out the received junk and recycle as much as possible. As a result, it significantly reduces the amount of trash in landfills. Busy bees will also fix items whenever possible and donate them to proper places.
One of the best things about busy bees is the acceptance of e-wastes. You will not find many companies experienced in handling that kind of junk. But busy bees will ensure your old electronic appliances' safe and proper disposal.
Conclusion
Busy Bees is where you can rest it if you search for 'junk removal tacoma'. Schedule an appointment, and our company will send two large haulers to take away all your trash on the same day. Our friendly and well-trained staff will surely be a delight to work with.